We know that it is not always easy to understand how to work with OTAs, as they all have different guidelines. Therefore, we want to clarify how you can sell your products on the top OTAs to make it easier for you when setting up your distribution channels. Below you will find some information that will help you in connecting your products to Tiqets.
About Tiqets
Tiqets is an innovative ticketing platform that is revolutionizing the way visitors discover, buy and use tickets for museums, shows and attractions. With instant and mobile tickets, they provide millions of travelers with hassle-free entrance.
They are on a mission to make culture more accessible. They remove all friction to get more people more frequently into both hidden gems and the top museums and attractions with the excellent partnership and support from their suppliers!
Signing up with Tiqets:
If you are not working with Tiqets yet, you can sign up here.
An expert from your region will get in contact with you shortly.
Onboarding products on Tiqets:
As a Tiqets supplier, you can create and manage your products on the Supplier Portal.
Once you have updated the content of your product, the operations team will assist you with a quality check. You can publish the products in the Supplier Portal once they are approved.
Establishing a technical connection with TourCMS:
If you want to connect your TourCMS account to Tiqets, make sure to complete the following steps:
1. Sign up with Tiqets
Before you can establish an API connection, you must have a commercial agreement in place with Tiqets.
2. Set up your products in the TourCMS backoffice and Tiqets Supplier Portal
Your products need to be created in both systems in order to establish a connection between them.
If you're an existing supplier on Tiqets, you can simply reach out to Tiqets representatives once the below permissions have been enabled.
3. Connect your Tiqets supplier account to TourCMS
In order to connect your Tiqets products to your TourCMS account, you will first need to give Tiqets access to the list of products and their information via API. You can do that by going to Partners -> Marketplace Agents and search for Tiqets. The Verified Tab shows you the confirmed Agent ID for top OTAs. We recommend enabling this access once your contract is signed.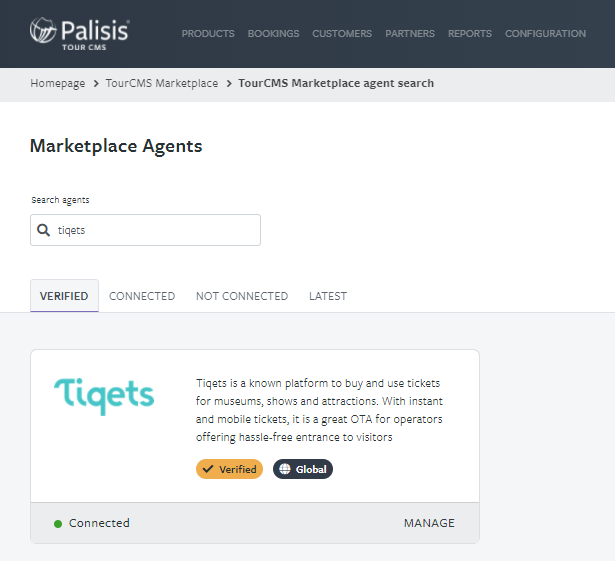 Please, ensure that the API is enabled for that channel in

TourCMS

(Homepage -> Configuration -> System & setup -> API).
Next, choose level 3 permission (trusted travel agent) and click on 'Create Connection'. This permission level will allow Tiqets to get product information, availability and place bookings in your system.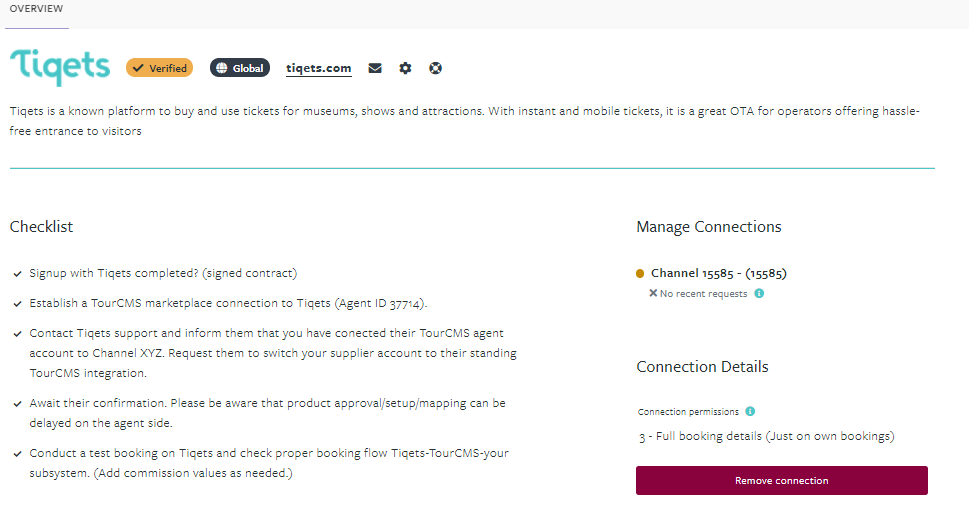 After this step, inform your Tiqets representative that you would like to connect to TourCMS via API. It is helpful to share your

TourCMS Channel ID

and/or

Account ID

, as well as your

Tour IDs,

to help make sure the connection is done correctly. You can also include

support@palisis.com

in this email so we are aware of your request.

It normally takes a couple of days for Tiqets to connect existing products. However, it could take a few more days if the product has not been built out on their site yet or the permission was not given to the correct products.

Make a booking on Tiqets and check for the proper booking flow: Tiqets > TourCMS > your subsystem.
Verify that any new booking is flowing correctly through the chain of connected systems. If you recognize a disparity between what you have booked and what your operating system shows, please let us know by writing to support@palisis.com.
Please note OTAs are constantly improving the way they work with operators and the above guidelines are subject to change.